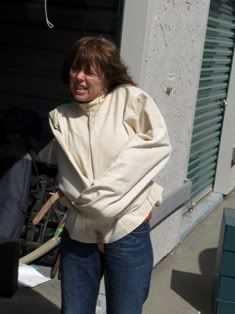 So, it's 4 o'clock Friday afternoon and I'm STILL
waiting for Hamo to finish eating lunch so that I
can sit next to him and force him to study his
Islamic Studies books for his re-take test scheduled
for TOMORROW. He has the attention span of a
fruit fly on crystal meth.
I swear I'm losing it. Between fussing at Randa
every 5 minutes to turn down the t.v., at Samiya
to stop tattling non-stop, at Hamo to get back in
his room to study, at Ismail to stop teasing Hamo
to the point that he COMES out of his room to kill
him, at the people upstairs who decided to start
smashing their floors in with sledgehammers around
8 o'clock last night until 11:30 and then pick up up
this morning with their annual dwarf-tossing and
furniture juggling contests, I'm on the brink of
sanity.
I think I could've handled things a little better with his
failing his final back in June had I not been blamed for
it. I tried to reason with him and explain that he needs
to take responsibility for his own shortcomings and how
you only get out of things what you put into them, etc.
Then I remembered he's 14 and all he hears is the WAH
WAWAWAWAH sound of Charlie Brown's teacher's
voice when I talk to him. So I went back to the old
"Get your butt in your room and you're grounded
from computer until after you pass your exam with
an A," strategy. He's pissed off, of course. But you know,
when isn't he? He's a teenager. He's ALWAYS pissed
off.
I think the real trick is going to be coming up with
various errands to send Aiman and Ismail on today. If
I can just keep them busy enough, then they won't
fight or tease Hamo giving me just enough quiet to
stuff this vocabulary and memory work into his thick
little head. Don't get me wrong. He's not dumb and
this really isn't that hard. He's just bored of school,
lazy when it comes to study and blames me, the school,
the curriculum, me again, global warming, (fill in the
blank) for his shortcomings in this one subject.
I'm praying that I can make it through the next 24
hours without killing, maiming, or seriously hurting
the feelings of anyone I come across.
Oh, and did you see the picture of my new jacket?
It's just the right size, too!